Order Bathroom Blinds – Factory Direct
Let's face it – traditionally bathrooms are not the largest room in the house but they are one of the most well used, even by guests. So you want to get the décor and ambience just right.
Whether you are moving into a new home or simply remodeling or renovating your bathroom there is definitely a number of factors to consider when it comes to choosing the right bathroom blinds for your home;
If after reading this, you are still unsure, Rollerblinds are more than happy to send out FREE SAMPLES of swatches so you can decide at your leisure.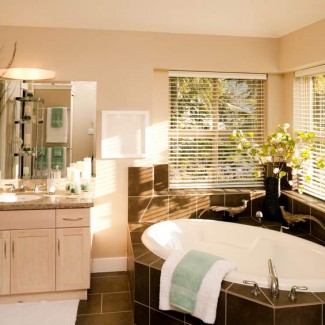 Moisture resistant blinds
Bathroom Blinds are typically one of the most wet or humid areas in the house. So look for water or moisture resistant blinds, particularly those that won't be susceptible to warping.
Moisture can also lead to mold, mildew and even rust, so bathroom blinds and shades that are easy to clean and wipe will prevent this from occurring. PVC venetian blinds can be wiped down and are incredibly easy to clean.
When privacy matters
Although many bathrooms have frosted glass at their windows, the levels of privacy a bathroom blind provides, particularly if your bathroom is on the ground floor, is certainly a consideration.
The ability to open and close venetian blinds make these a popular window treatment choice as a privacy blind for a bathroom
Bathroom design trends
Windows are quite often the focal point of a bathroom. Bathroom roller blinds can be a modern, minimal way to 'dress' a small space, such as an en-suite or shower room, or as a way to add a touch or even a splash of colour. Our range of bathroom blinds come in a variety of hues, styles and textiles to complement the latest trends and bathroom aesthetics
Bathing in light
Bathroom Blinds Creating a soothing retreat, somewhere you are able to unwind and relax is important in a bathroom. So how much natural light there is, will influence your decision on the window treatment. Soft white or neutral roller blinds, colonial style venetians or the latest trend in vision blinds will all afford more versatility in controlling how much light comes into your room.Vertical Blinds
For assistance with your bathroom blinds
Please call our customer service team on
0800 ROLLABLIND